NP
3Pcs 10ml Essential Oil Set (Sandalwood, Cinnamon, Tea Tree)
Regular price
Sale price
$15.99 USD
Unit price
per
Sale
Sold out
Packing Includes: 10ml Cinnamon Oil x1, 10ml Sandalwood Oil x1,10ml Tea Tree Oil x1. With no adulterants or dilution, 100% pure quality. The scented oil is bottled in a durable amber glass bottle.
The scent of

 

Cinnamon essential oil

 

is fresh, sweet and spicy, distilled from the bark of cinnamon plant. 

It can blend well with Benzoin, Cloves, Coriander, Cardamom, Frankincense, Ginger, Grapefruit, Lavender, Rosemary and Thyme essential oil.

Sandalwood essential oil is woodsy, sweet smell. Distilled from the wood of Sandalwood. Relieve anxiety, stress. Blends well with: Basil, Laurel, Cypress, Frankincense, Bergamot, Geranium, Lavender, Jasmine, Rose, Vetiver.
The scent of

 

Tea Tree essential oil

 

is astringent, acrid, camphorous, distilled from the leaves of tea tree. 

It can blend well with essential oils of Cinnamon, Clary sage, Clove, Geranium, Lavender, Lemon, Myrrh, Nutmeg, Rosewood, Rosemary and Thyme.

Multi Usage: It can used in soaps, candles, burners, diffusers, baths, massage, etc. Please do not use on skin directly. For topical application, please dilute it to 2-5%.
Caution: For children under 3 years old, do not use essential oils directly except for aromatic baths.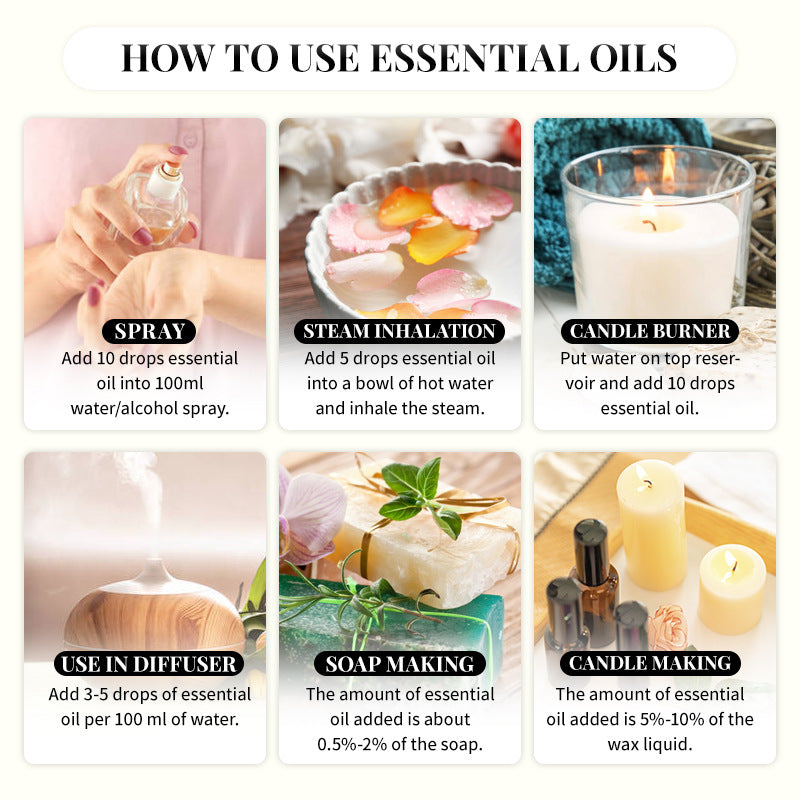 Share